The United States Healthful Food Council is excited to announce REAL25 Boston – our list of the 25 most healthful and sustainable restaurants in Beantown!  It's no mystery that Boston is home to some of the best restaurants in the nation, and it is our goal to help you find those restaurants that have your wellbeing, and the wellbeing of the planet, in mind.
Without further ado, here are the newest members of the REAL25 community, in no particular order:
---
Back Bay – 659 Boylston St
Chestnut Hill – 210 Boylston St
Fort Point – 372 Congress St
Prudential Center – 800 Boylston St
Lynnfield – 675 Market St
Downtown Crossing – 13 School St
Fenway (coming soon) – 132 Brookline Ave
Harvard Square (coming soon) – 39 JFK St  
This national chain is making waves in the fast-casual world by turning the slow food paradigm on its head – they serve fresh, local, sustainable and organic food … fast! Their menu is made from scratch, seasonally rotating and customizable to accommodate for dietary restrictions. To top it all off, they have a commendable community engagement focus that gives farmers, customers and everyone in-between, a voice. This initiative includes their "Sweetgreen In Schools" program, where they provide nutrition education to children nationwide.
Notable:
The Sweetgreen sustainable values don't stop at their food! Each restaurant is designed to incorporate reclaimed materials and to preserve the original building in the remodeling process.
---
Logan Airport, terminal C + B
Finding healthy food while you're traveling is not as easy as it should be.  But now, for anyone flying in or out of Logan Airport, UFood Grill is changing that! This Boston-based fast-casual restaurant is revolutionizing the industry by shedding the tools of the trade (they don't even have a fryer on-site) while maintaining the familiar taste that keeps people coming back for more. Having already undergone our full REAL Certification audit, we can verify that they are doing their best to provide customers with high-quality, delicious and nutritious foods! For diners with food allergies or on other restrictive diets, their website lists all necessary information.
Notable:
Their Logan airport locations have been updated to include USB charging stations at each table.
---
1704 Washington St
South End Boston's Barcelona-style tapas restaurant is the brainchild of James Beard Award-winning chefs Ken Oringer and Jamie Bissonnette.  Toro has been serving locally sourced, sustainable food since 2005 and is open seven days a week for dinner, plus lunch on weekdays and brunch on Sunday. Thanks to their "nose to tail" use of animals, Toro is listed in the World Society for the Protection of Animal's Eat Humane database. Their sustainability best-practice doesn't stop there: all fryer oil is recycled into biodiesel, paper products are recycled, and a large number of vegetarian options make Toro a leader in the REAL food world.
Notable:
They do not take dinner reservations, so arrive early with flexible dinner plans.  They do, however, take lunch and brunch reservations!
---
Berklee College of Music – 1080 Boylston St
Harvard Square – 71 Mt. Auburn St
Congress Street – 50 Congress St
Northeastern University – 359-369 Huntington Ave
Children's Hospital – 283 Longwood Ave
Federal Street – 133 Federal St
Boston Common – 176 Boylston St
Copley Square – 569 Boylston St
Atlantic Wharf – 284 Congress St
This global style burrito restaurant has been wowing Bostonians since 1996, under a variety of different names.  They became Boloco in 2005, which is short for "Boston Local Company," to emphasize their commitment to the Boston community – an effort that is further reflected in their Free Burrito Day charity fundraisers, the English classes that they provide for all ESL employees and their continued work with local non-profit, Community Servings, to provide food to people living with chronic illnesses.
The list of food-based credentials that puts them on this list is extensive, and it includes their healthy children's menu, their 100% from-scratch guacamole, their compostable bamboo bowls and their all natural meats. Boloco is very clear about what "natural" means in their establishment – all of their meats are "naturally raised," meaning that they are vegetarian fed with no added antibiotics or hormones. They were also the first fast casual chain in New England to be certified by the Green Restaurant Association (GRA).
Notable:
Boloco has been recognized repeatedly for their focus on sustainability in the community. The Improper Bostonian named them "Boston's Best Wraps" 3 times; The Boston Globe listed them as one of the "Greenest of Them All"; and Fast Casual Magazine ranked them #28 in the top 100 Movers and Shakers.
---
1145 Washington St 
Husband and wife dream team, Joanne Chang and Christopher Myers, started this restaurant to bring their interpretation of Taiwanese soul food and Southeast Asian street food to the Boston food scene. Although not attempting to be traditional, their dishes feature the unique flavors of the region with an emphasis on fresh, beautiful, local (when possible) ingredients. They offer separate menus for gluten-free, vegetarian, shellfish-free and nut-free diners and on Mondays and Tuesdays they offer "Cheap Date Night" prix fixe menus for anyone looking to sample on a budget.
Notable:
Chef/owner Joanne Chang was recognized by the James Beard Awards as Outstanding Baker in 2016 and Executive Chef Karen Akunowicz was nominated for Best Chef Northeast in both 2015 and 2016. Chef Akunowicz is also a contestant on Top Chef.
---
100 City Hall Plaza
Cocobeet is a tiny juice shop, cleanse-crafter, vegan grab-and-go superstar doing big things in the Boston area.  Offering unprocessed, GMO-free, organic and locally sourced food items, made from scratch, daily – you can also add raw, vegan and gluten-free to the list of REAL credentials – these guys are doing just about everything they can to make healthy eating accessible to you.  They offer breakfast, lunch, dinner, and snack options all day long and claim a focus on a balanced diet and "Plant Packed Living."
---
665 Boylston St
131 Dartmouth St
360 Longwood Ave
Berklee College of Music – 137 Mass Ave
Seaport – 50 Northern Ave
84 Summer St
255 Washington St
Childhood best friends, Anthony and Jon, launched this healthy fast food chain in 2003.  Their passion for food is inspired by Anthony's uncle Faris, who taught them the power of the home-cooked meal and its ability to nourish and heal the body. Their menu is produce-focused, seasonally rotating and locally sourced when possible. They go a step further by listing all nutritional information and ingredients (including spices and sauces), by dish, on their website so that diners with specific allergies or restrictions can dine confidently.
Notable:
Parents rejoice! B.Good features an impressive healthy children's menu at each location.
---
600 Mt Auburn St, Watertown
For healthy diners who find themselves in Watertown, MA, Red Lentil provides a great option for vegan, vegetarian and gluten-free friendly dining.  Chef and owner, Pankaj Pradhan, goes above and beyond to assure diners that special equipment and cooking space is used to avoid trace allergens for those with celiac disease. Thanks to chef Pradhan's extensive international adventures, the "globally inspired" menu is creative, diverse and well-crafted.  With rotating specials aimed at utilizing the diverse seasonal produce of New England, as well as a range of raw and macrobiotic options, Red Lentil does it's part to encourage healthful living in the Boston area.
Quote:
Running a restaurant is about so much more than just the food itself. Even in our social-media-dominated society, food can still bring people together. A good meal can transform a person's attitude and outlook on their day.

– Chef Pradhan
---
450 Washington St, Dorchester
A little out of the ordinary range for REAL25, this exciting mission-driven company is worth bending the rules for! A non-profit grocery store concept (rather than restaurant) from prior Trader Joe's President, Doug Rauch, Daily Table offers healthy, local, organic and sustainably sourced groceries, as well as a selection of grab-and-go items prepared on-site. Their aim is to make health-conscious food affordable by teaming up with farmers, supermarkets and manufacturers who either donate or discount excess foods (for a complete list of donors and suppliers, go to their website).  Thanks to this model, they are able to offer healthy food at fast-food prices. Their first location opened in June, 2015, with local and national expansion plans in the works.
Fact:
America wastes about 40% (80 billion pounds) of food produced, every year
---
1 Bennett Street, Cambridge
Serving the Boston area for the past 20 years, Henrietta's Table is a tried and true favorite, located in the Charles Hotel.  Focusing on "New England cooking," and, more importantly, New England Produce, their website features a list of seasonally available produce, updated each month. Chef Peter Davis, the mastermind behind the establishment, is an avid supporter of sustainable, regional and organic sourcing and uses non-GMO produce, as often as he can. Having won recognition from multiple trusted reviewers over the years – including The New York Times, Food & Wine, and Travel + leisure – Henrietta's Table is a must-visit dining establishment, with outdoor patio seating available in the spring and summer months.
Notable:
Henrietta's Table hosts an annual "Big Pig Gig" to raise funds for The Farm School, a local, family-run educational farm in Athol, MA.
---
597 Centre St, Jamaica Plain
This local dining establishment is a model of scratch-cooking best-practice, with pasta made fresh daily; meats cured on-site; and vinegars, pickles, and preserves prepared in-house.  Their seasonally inspired menus feature local produce, delivered daily by Metro Pedal Power … a bike delivery service aimed at decreasing emissions! They aim for a dinner party ambiance – dimming the lights and encouraging family-style dining by featuring 4-course tasting menus for meat-eaters, vegetarians and vegans alike (note: vegan tasting menu requires 24-hour notice).
Notable:
For diners over 21 years of age, all of their wines are organic and/or biodynamic.   
---
1203 Walnut Street, Newton Highlands
A bit off the beaten path, Walnut Grille offers vegetarian and vegan dining to those on the outskirts of the Boston metro-area. They also cater to gluten-free dietary restrictions and offer a comprehensive healthy children's menu. Their seasonally focused, locally-sourced daily specials can be found online, as well as their full menu and list of fresh smoothies and juices.  For those traveling to and from Boston-proper, Walnut Grille is located just off the T, at the Newton Highlands stop. They also offer free parking for anyone driving to the establishment.
---
350 Third St, Cambridge
This Kendal Square establishment has been serving local, seasonal and organic food since 1998. Their commitment to local foods is clearly featured on their menu, with all the farms and producers listed clearly on the menu and many of their herbs being sourced from their own rooftop garden.  EVOO (the acronym for Extra Virgin Olive Oil) has been named the "Best Eclectic Restaurant in Boston" by Zagat four times and the building (which they share with adjoining sister restaurant, Za) is LEED Gold Certified. Menu's change daily, so be sure to check their website or call in for updated offerings!
Notable:
EVOO offers an affordable, chef curated, seven-course tasting menu, Monday through Thursday that will allow you to try a range of their offerings.
---
765 Mass Ave, Cambridge
The menu at Life Alive is built around these values: empowerment, quality, integrity, compassion, passion, equity, and joyfulness. With menu items such as The Goddess, The Swamie, and The Munchy Granny, they bring therapeutic foods to the table, dressed as delicious, customizable meals! The slow-food focus is just one part of their commitment to local, organic produce that is free from all chemicals, artificial preservatives, colors, flavors and sweeteners. To top it all off, they use biodegradable and chemical-free packaging and cleaning materials when they can, and strive for waste reduction with a comprehensive recycling and composting program.
Notable:
Their website boasts an extensive food glossary, which lists the therapeutic properties of many of their ingredients.
---
134 Hampshire Street, Cambridge
From the culinary stylings of chef/owner Ana Sortun (James Beard Best Chef, Northeast, 2005), Oleana has been feeding the Boston public since 2001. The Oleana kitchen is a family affair, with most of the produce being sourced from Siena Farms, the 75 acre Sundbury/Concord farm run by chef Sortun's husband, Chris Kurth (and named after their daughter). The food is inspired by Sortun's travels in Turkey and features bold spices and exotic flavors.  The restaurant is renowned for its beautiful patio – complete with herb garden – which is open to first-come-first-served seating when the weather permits. For vegetarian diners, the Meze-style vegetable tasting menu comes highly recommended.
Notable:
Chef Sortun hosts dining travel experiences for guests interested in full culinary immersion. This year's trip, which will take place in November, will span the food markets and restaurants of Greece.  Visit their website for more information or to join the tour.
---
44 Brattle St, Cambridge
The longest-standing establishment on this list, Harvest opened in Harvard Square in 1975.  40+ years later, they are still leading the charge in health-focused dining. Over the years, it has been recognized by such publications as Travel & Leisure, Zagat, Boston Magazine, and The Improper Bostonian for its exceptional New England cuisine.  The menu features seasonal produce and (despite its age) contemporary dining options, under the guidance of the young and talented Chef Kinnett, who came on as Executive Chef in 2015.
Notable:
For diners with dietary restrictions and allergies, the kitchen is happy to create customized menus to accommodate, just call ahead to discuss details with the kitchen beforehand.
---
377 Walden St, Cambridge
TW Food is a fine dining restaurant in Harvard Square, that features French, Italian and New American dishes.  The husband and wife team, made up of Chef Tim Wiechmann and Bronwhyn T.W., cultivate a serene and upscale dining environment just off the beaten path of Cambridge's busy streets. In 2014, TW Food was voted one of Boston's 50 Best Restaurants by Boston Magazine; it has been recognized with a plethora of other accolades over the years, all of which you can read about on their website.
Notable:
Adventurous eaters, note: don't miss Wednesday night Kithen Improv.  This five-course tasting menu is curated by the chef and delivered straight to you for only $49. Wine pairings available for an added fee.
---
2067 Massachusetts Ave, Cambridge
1415 Washington St, Boston
This veg-friendly, French-Cambodian restaurant is run by a mother-daughter team – including founder/chef Longteine de Monteiro and her daughter, Executive Chef, Nadsa de Monteiro. The family tree is rounded out by Longteine's son-in-law Gerard Lopez, who runs the kitchens at the Cambridge location. The original location opened on August 20th, 1991 (just one day after Hurricane Bob rolled through town). Our local experts emphasize the kitchen's attentiveness to allergies and the abundance of vegetable-based dishes.
Notable:
Love the food? Try one of their cooking classes or pick up their cookbook to bring the flavors home.
---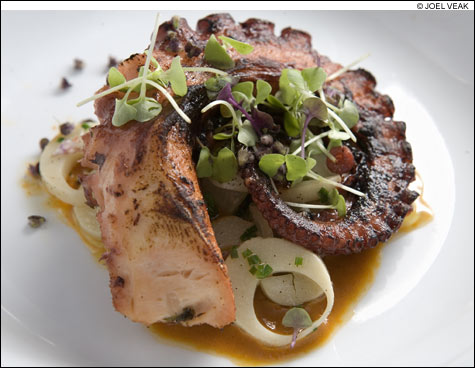 853 Main St, Cambridge
Craigie On Main is a French-inspired, seasonally focused, organic restaurant with a rotating menu that reflects their values surrounding local food and high-quality sourcing.  Chef Tony Maws has been recognized with a James Beard Best Chef, Northeast award, the Boston's Best Chef award from Boston Magazine and a mention on America's Best New Chefs from Food & Wine – needless to say, he's making waves.  And he's not taking any shortcuts when it comes to local food … fresh ingredients are hand-selected every day and Chef Maws builds his menu around what is available and of the highest quality. And their sustainable practice doesn't stop there: their cocktail menu is crafted around local herbs and juices and around 80% of their wine come from organic and biodynamic vineyards. To top it all off, everything on the menu is made from scratch with a "whole animal" approach utilized whenever possible.
On the non-food side of things, all paper is recycled, left-over cooking oil is offered to biodiesel users and they get many of their deliveries via Pedi-Power bikes.
Recommended:
The Chef's Whim or Chef's Tasting Menu is a great option for indecisive or adventurous diners – don't worry, you're in good hands!
---
210 Hanover
The highly esteemed and well known Peruvian chef, Jose Duarte, brings his extensive knowledge and international flair to the table at Taranta. The establishment offers a mix between Southern Italian and Peruvian cuisine.
Chef Duarte has received the 2008 City of Boston Green Business Award, the 2011 Massachusetts Recycling Award, Waterford Crystal Chefs of Chefs Award at the Food and Wine Week in Houston Texas, 2011 Massachusetts Chef of the Year and Top 100 "Most Influential" Latinos in MA. He is a part Le Cordon Bleu Boston Programming Advisory Board, Newbury College Advisory Board and Lynn University Advisory Board. Taranta became a green certified restaurant in October 2007 [and] received the City of Boston Green Business Award in 2008. In 2011 Taranta received the Massachusetts Recycling Award. 
Notable:
Chef Duarte leads Peruvian Gastronomy Adventures for passionate foodies and travelers. Visit their website for more information.
---
1153 Broadway, Somerville
This is an upscale vegan restaurant, led by Linda and Michael Harrison and Chef Stuart Reiter. Recognized for the quality of their dinner menu, which has been inspired by Chef Reiter's world travels, the vegan offerings are prepped to please both meat-eaters and veg-heads alike.  They do their best to minimize their impact on the planet through their sustainable sourcing and plant-based philosophy.
Notable:
The Boston Globe called True Bistro "A sophisticated restaurant that just so happens to be vegan."
---
1634 Beacon St, Brookline
Chef/Owner Jim Solomon opened The Fireplace with local and seasonal produce on his mind – this is, first and foremost, the focus of the food offerings.  Coming in at a close second is sustainably-raised options and, third, organic produce.  The establishment was opened in 2001 and has been deeply involved in community engagement ever since; these days, The Fireplace donates to nearly 500 organizations annually with money they raise at the "Fireside Chat" events.
Notable:
Due to the hyper-local bent, the menu items are not always exactly what the menu says they are going to be.  If you are concerened about food allergies or dietary restrictions, be sure to let your server know.
---
Back Bay – 185 Dartmouth St
Channel Center – 1 Iron St
High Street – 100 High Street, Suite 100
Eat. Energize. That's the Freshii motto. The aim is to provide fresh and nutritious meal choices that energize people on the go. Emphasizing the foods you should eat more of and less on those you should avoid, Freshii provides meals and snacks that help you live your best life. Think: fiber-rich, slow-burning carbs, essential fats and lean proteins. The menu includes custom-made green wraps, salads, quinoa bowls, and fresh pressed juices.
Freshii lives by their Mission Green. Taking a stand and being good to the earth by eliminating traditional industry staples: excess packaging, heavy energy consumption, and greasy processed meals.
Notable: 
In 2013, Freshii launched Fresh Startups, a technology accelerator; with the mission to invest in young technology companies that share the mission of helping people live longer and healthier lives.  Freshii has also teamed up with Free the Children to build school kitchens and vegetable gardens in developing communities worldwide.
---
1166 Cambridge St, Cambridge
Puritan & Company puts a heavy focus on sourcing from local farmers and developing these farm-to-table relationships to ensure quality, consistency, and to show their support for regional and seasonal produce. Serving the Cambridge area since 2012, they are recognized in the wellness community for offering healthy portion sizes, creative vegetable options and using high-quality ingredients.
Notable:
Puritan & Company takes its name from its predecessor at 1166 Cambridge Street, the Puritan Cake Company, a bakery that stood on this spot in the 1930s, '40s and '50s.
---
Brookline Village – 6 Harvard St, Brookline
Burlington – 100 Burlington Mall Rd, Burlington
Downtown Crossing – 27 School St, Boston
HFI (Central Square) – 496 Mass Ave, Cambridge
Harvard Sqaure – 1326 Mass Ave, Cambridge
East Cambridge – 1075 Cambridge St, Cambridge
Kendall Square – 5 Cambridge Center, Cambridge
Westford (Whole Foods) – 160 Littleton, Rd, Westford
*For food truck locations, check their website
Clover is a vegetarian fast-food concept restaurant with a mission. All of their foods are prepared from scratch (except for the mayonnaise and the ketchup), to order and sourced locally. Their aim is simplicity – relying on the power of high-quality and fresh ingredients to wow the palette, they never use additives, preservatives or flavor enhancers.
A few other interesting facts about the Clover food model:
There are no freezers on-site because everything is made fresh, daily
The menu changes daily to reflect seasonal availability
Their produce is largely organic
Everything is compostable
Their average prep time is 3.5 minutes (barely slower than McDonalds)!
Notable:
Due to their fresh-food focus, they often run out of ingredients. Founder, Ayr Muir, chose this option because he felt it was better than waste, but come prepared with a second choice option.
---